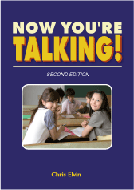 Now you're talking!  Chris Elvin
Now you're talking! is a basic-level conversation course designed exclusively for Japanese students. The course is suitable for teenagers or young adults. The book features a wide variety of interactive, task-based speaking and listening activities.
Key features of the course include:
practical, enjoyable, interactive and highly communicative speaking tasks
a very carefully planned learning progression
writing and review sections in every unit
lots of listening practice
an attractive, user-friendly layout
written by a Japan-based author with over
20 years of experience in Japan
A Teacher's Guide is available in printable PDF format from our website. An audio component is sold separately.