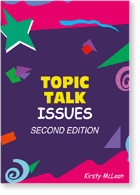 Topic Talk Issues  Kirsty McLean
Topic Talk Issues is a low-intermediate/intermediate level speaking and listening course designed exclusively for Japanese students. This unique course presents an enjoyable, lighthearted approach to important everyday issues. The text combines interactive, topic-based speaking activities with listenings based on authentic interviews. The text is suitable for teenagers or adults.
Key features of the course include:
fluency-based units which engage students and encourage them to share their own opinions on key issues
integrated practice of all four language skills
a natural fit as a follow-on course after Topic Talk or Talk a Lot, Book 2 or can be used independently.
an attractive, user-friendly layout
A Teacher's Guide and audio component are available separately.