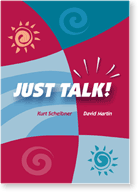 Just Talk!  Kurt Scheibner & David Martin
THIS UNIQUE CONVERSATION COURSE WILL REALLY GET YOUR STUDENTS TALKING!
Just Talk! is a high-beginner/low-intermediate level conversation course designed exclusively for Japanese students. The text is suitable for teenagers or adults. The book features a wide variety of interactive, task-based speaking and listening activities. The topics and activities are highly motivating and relevant to the Japanese EFL student.
interactive, task-based units
highly communicative
gives students lots of talking time
attractive, user-friendly layout
semi-authentic English listenings
A Teacher's Guide and audio CD are available separately.